Art, rhymes, and floral designs with Alec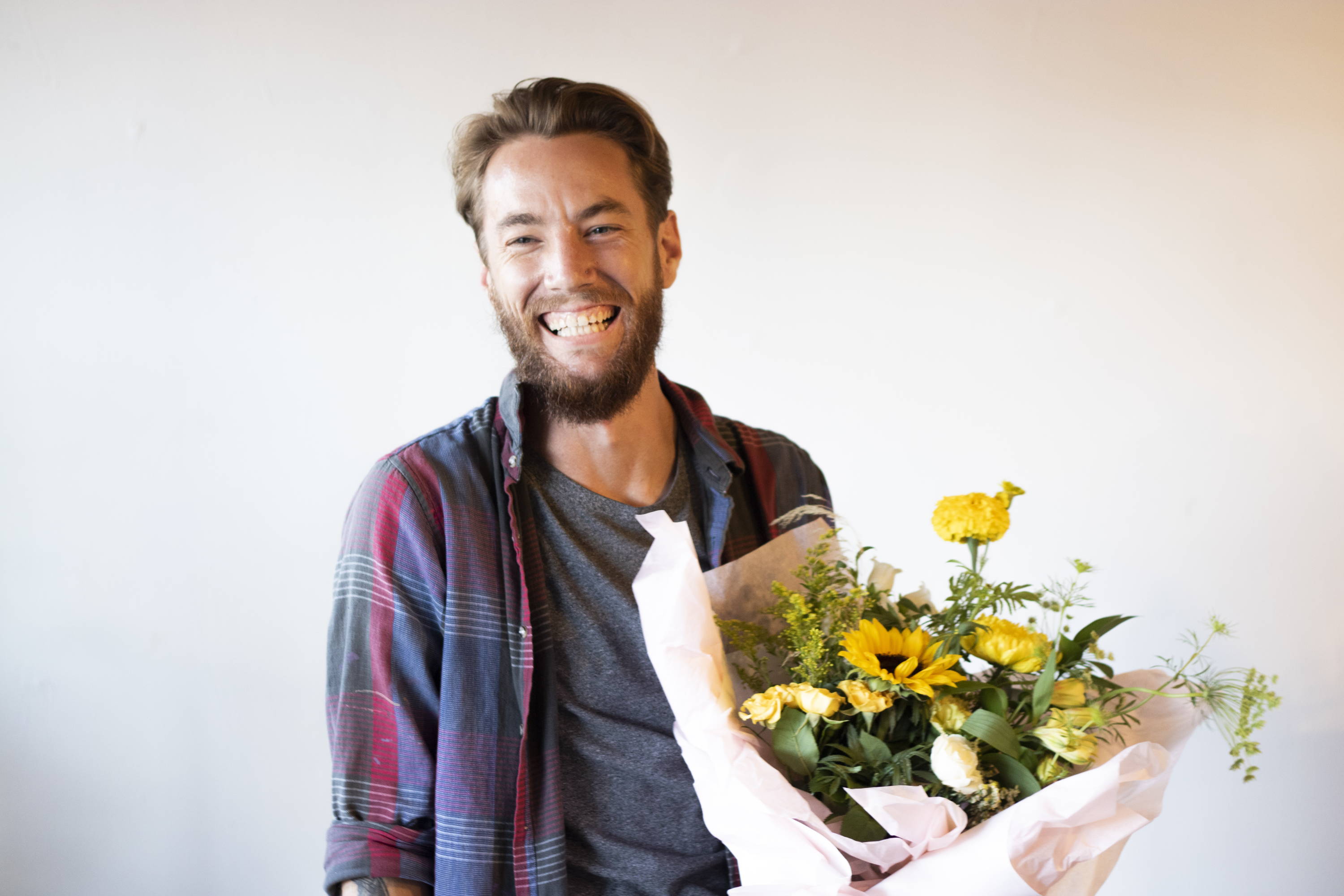 Sage Sisters prides itself on original floral designs from its talented crew of florists. Continuing our Sage Sisters Florist Spotlight, we turn our attention to one of the shop's supervisors, Alec.
Alec has been a florist at Sage Sisters' shop in San Diego's North Park neighborhood since late 2020, not long after graduating from art school at San Diego State University. Originally from Macon, Georgia, Alec moved to San Diego by way of Yuma, Arizona, after a stint in the Marine Corps as an aircraft mechanic.
"It was a really natural kind of switch for me," Alec says of his work as a florist. "Before I was a florist I was a practicing artist working in all of the traditional mediums, drawing, painting, sculpture. I was doing found object sculpture, which is essentially the same thing as floral arranging."
Although he didn't have any experience working in a flower shop, he had some experience in leadership and running a mechanic shop by the end of his enlistment in the Marines. Alec began work at Sage Sisters as a delivery driver, but quickly found himself putting his creative talents to work as a florist and as a supervisor.
Here, he shares some of his thoughts on his creative process and floral design.
SAGE SISTERS: What is your favorite thing about working with flowers?
I like that they're different every time. I like that nature throws you all kinds of curveballs that you have to work with and it's a never ending challenge. You can get the same flower and every time it's going to be something different. A different shade of pink. A little smaller or larger. Five heads instead of two. It challenges me to not think too hard about what the end product is going to look like, which I've never really done in art before. Also, flowers are pretty.
Which flowers do you like to use the most in your arrangement?
Right now, I'd say my favorite flower to work with is the disbud mum. I like all the different colors they come in and the different textures they provide. They can act as a focal point flower and blend into the background. And they have real firm stems. I think because I'm still learning a lot about flowers my favorites change so frequently.
What's one flower that you couldn't live without?
Strawflower for sure. They're great for so many different purposes. They dry really really well, I think they look great in almost any of Sage Sisters' arrangements, and they have a cool texture. It feels like paper when you play with the petals.
What flower is underrated? Why?
Carnation. Most people don't like them because people see them as either cheap or very traditional. But I think they're one of the most resilient flowers you find in any flower shop. They dry very well and they come in such a wide variety of colors. Every time I think I know all of the different types of carnations I discover a new one.
What makes a great floral arrangement?
Visual rhythm. The way that your eye goes through a piece or arrangement. It's the same way you enjoy a certain landscape painting. The artist structures certain elements in color or visual size to lead your eye through the piece. I call it a "lazy S." You want your eye to go through one end to the other. It's one of the building blocks of any good design.
What's something you want people to know about flowers?
Flowers can be beautiful throughout their entire lifespan. Even dying flowers can be beautiful at the end. There's something really beautiful watching flowers go from the beginning to the end.
Is there anything that inspires your floral arrangements?
Flemish floral paintings. They're completely unattainable because these Flemish painters would wait through the seasons and superimpose the flowers into the paintings. The shape that the flowers have — it looks like the flowers are exploding out of the arrangement. They represent bounty and abundance. Opulence. It's something really cool that I would like to bring to Sage Sisters' customers.
What kind of music do you like to listen to when you're making an arrangement?
Rap music. Lots of different kinds of rap music. Wu-Tang Clan, Kendrick Lamar, MF Doom, Biggie Smalls, Kanye West, Run the Jewels, in no particular order. It's what I've always listened to when I'm creating anything. There's something so creative about rap music. The way they string together words is not unlike the way you string together an arrangement. There's a rhythm to it that I find very pleasing when I'm arranging.
What kind of advice would you give to someone who wanted to make their own floral arrangement?
Don't think too hard. Let the flowers kind of do what they want to do.
---